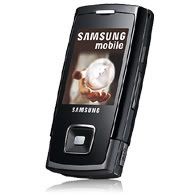 I just bought this Samsung E 900.
It has a 2 MP camera with flash.
It is a slide phone which means I can twist my head in a dramatic way and slide my phone and then pick up a call.
It has a micro SD slot which allows me to load MP3s
It is black and slick.
It has a vibrant color screen.
I love it....cant wait to start snapping pictures of friends. In fact I already got shots of Gerrie.-beams-